Super Smash Bros. Ultimate (大乱闘スマッシュブラザーズ SPECIAL, Great Fray Smash Brothers Special) is an upcoming fighting game for the Nintendo Switch. It was first announced on March 8th, 2018 at the end of the Nintendo Direct released the same day. It will be the fifth installment in the Super Smash Bros. series (sixth if both versions of Super Smash Bros. 4 are counted as two games). The game is scheduled to release on December 7, 2018.
Trailers
Edit
The first teaser trailer was revealed at the end of the Nintendo Direct on March 8th, 2018. Without explicitly confirming the playable status of any characters, the teaser trailer hinted that Inklings would be debuting in the game as newcomers, while also suggesting that Mario, Link, and several other series veterans would be returning. The next two trailers would be unveiled at Nintendo's E3 Direct on June 12th. In the first trailer, several past stages such as Green Greens from Melee and Shadow Moses Island from Brawl would be announced to return as the trailer showed off one or two veterans at a time, revealing that Zelda would be based on her Link to the Past design, all the DLC fighters from Smash 4 would return as part of the launch roster, Ike would have both his Path of Radiance and Radiant Dawn designs from the two previous games and all the formerly "lost" veterans including Ice Climbers, Pichu, and Young Link from Melee, as well as Squirtle, Ivysaur, Pokémon Trainer, Wolf, and Snake from Brawl. The game's finalized name was also revealed at the end: Super Smash Bros. Ultimate. The third trailer came at the end of the Direct in which Ridley from the Metroid franchise - after several years of being rejected entry into the pantheon of playable fighters because of his immense size - finally "hits the big time" as he joined the roster as a playable character.
Ice Climber Info
Edit
Back in the battle after a ten-year absence! There are two of them, so does that make them twice as strong as other fighters? " —Super Smash Blog, Super Smash Bros. Ultimate Official Site
The Ice Climbers (アイスクライマー, Ice Climber) are a playable character in Super Smash Bros. Ultimate. They were confirmed on June 12th, 2018.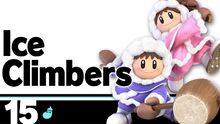 Summit is set to return in Super Smash Bros. Ultimate.